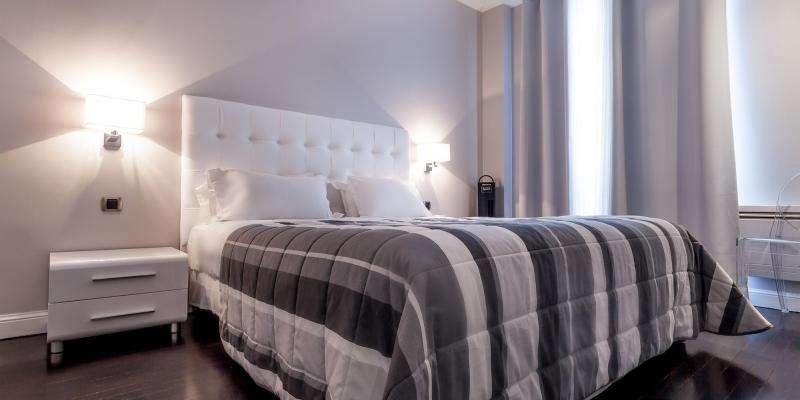 The Prince Régent Résidence; Superior accommodation
The rooms and suites offered for the comfort of guests at the Résidence & Spa Le Prince Régent are supremely elegant and well designed. Whether you are travelling alone, with family or friends, we offer superior accommodation that provides an ideal haven of peace, tranquility and comfort when you've spent a day working or exploring the city and visiting for example the Fondation Cartier, or enjoying live entertainment at the Lido.
The rooms and suites of the Résidence & Spa Le Prince Régent
The choice of accommodation in our apartment hotel is wide and excellent. All rooms have fully appointed kitchenettes or kitchens and designer bathrooms and are provided with tablet computers so that you can easily access our e-concierge service. You might consider Le Sensuel studio room. These welcome a maximum of two guests to 22 square metres of space, a double bed or two twin beds on request, a dining table and chairs and pleasing views of our inner courtyard.
Le Charmeur bedroom suites have 25 square metres and a lounge overlooking the courtyard. There's a separate bedroom and, with the use of the sofa bed, they can accommodate up to four people.
The Nuit Blanche suite is 35 square metres of luxury on the ground floor. It offers two rooms plus a private terrace and the kitchen and dining areas have everything you will need for up to four people.
Last, but certainly not least, our L'Elegant suites are a very spacious 80 square metres, with a lounge, two bedrooms with double beds, a separate kitchen and a dining room large enough to receive guests. Up to six people can reside here in great comfort.
With such a tempting selection, the only problem is how best to decide and, to widen your choice yet further, in a future article we will tell you all about our duplex accommodation!
The Résidence & Spa Le Prince Regent offers an ideal and stylish setting from which to explore Paris!

The Lido; One of the great Parisian Cabarets
Since it was established in 1946 by the Clerico Brothers and showbusiness legend Louis Guerin, the Lido has become one of the premiere Parisian locations for live entertainment. The venue boasts an ice rink, water screen and pool as part of its high-tech stage equipment. Today you can enjoy the revue Bonheur, performed by the famous Bluebell Girls and the Lido Boy Dancers in the place where greats such as Edith Piaf, Laurel and Hardy and Noel Coward once performed, and where Elvis Presley made an impromptu appearance. Noted for spectacular costumes, lighting, dancing and music, the Lido should not be missed.

Celebrating 30 years of the Cartier Foundation
Established in October, 1984, the Fondation Cartier is this year celebrating its 30th anniversary with special events that will run well into 2015. This contemporary art gallery has gained an impressive reputation for its bold and visionary approach to the staging of exhibitions. Over a hundred have been commissioned over the decades, presenting both established artists and new talent. For this anniversary period artists and their creations will occupy and animate the space in an homage to the sense of openness, creativity and discovery of the Fondation Cartier. Two commemorative projects are currently presented; Musings On A Glass Box and The Inhabitants.
---
Résidence & Spa Le Prince Régent - Charming Hotel, Latin quarter, Paris 6ème