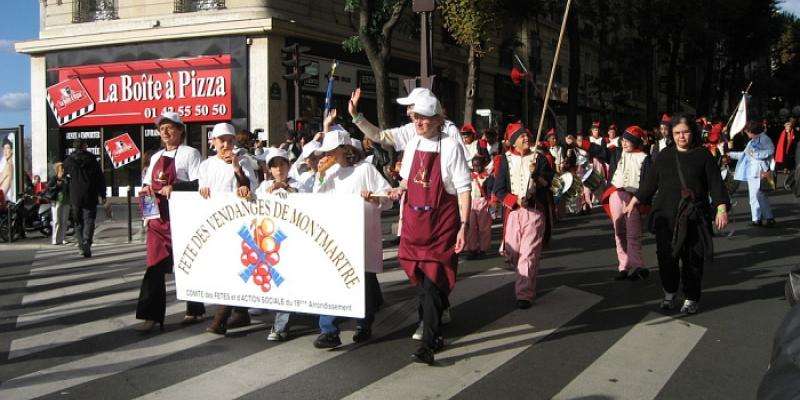 Take a Gourmet Break at the Montmartre Harvest Festival
One of the most emblematic and much loved events to take place in Paris, the Montmartre Harvest Festival, runs from October 8th to 12th. The Résidence & Spa Le Prince Régent takes great delight in heartily recommending this wonderful, warm and welcoming festive occasion that is a celebration of history, tradition and gourmet delights.
The Fetes des Vendanges; A party on Montmartre
In the long ago days when Paris was called Lutèce the Romans built a temple dedicated to Bacchus, the god of wine, on the hill that would one day be known as Montmartre. The Romans were the first to grow grapevines there and this tradition carried on until the city, hungry for land, swallowed up the vineyards. That would have been the last of this tradition if not for Francisque Poulbot, an artist who, in the mid- 1930s, led a movement to obtain land at the top of the hill from the Parisian authorities. A small plot was granted and today this modest 1,556 square metre vineyard provides an annual cause for celebration.
Up to 1 ½ thousand bottles of wine are produced each year from the Clos Montmartre. The harvest is celebrated by a festival that culminates in a musical fireworks display close to the Sacré-Cœur basilica and a grand parade featuring music, dancing and members of the local wine and gastronomic communities dressed in period costumes. A celebrity godfather and godmother preside over the proceedings and there are concerts, games, and much sampling of the local produce. Stalls offer food, drink, arts and crafts and there's a chance to purchase the local Clos Montmartre wine, with all proceeds going to charity. It's a uniquely heartwarming occasion.
******
Montmartre Grape Harvest Festival: October 8-12, 2014
on the Montmartre Hill
Official website (french language)
~oOo~
Picture copyright holder : Cyril LG - wikimedia CC
---
Résidence & Spa Le Prince Régent - Charming Hotel, Latin quarter, Paris 6ème