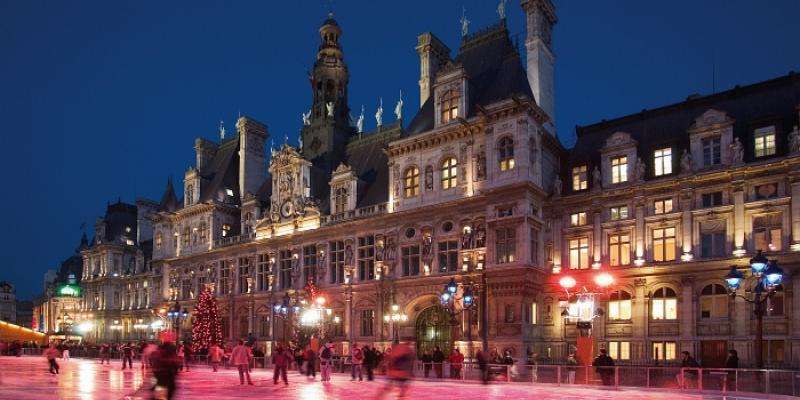 Soon it will be Christmas in Paris, A magical time
Paris is an exquisitely beautiful city, but perhaps never so lovely as it is at a certain magical time of the year. Christmas in Paris should be experienced by everyone, as there is nothing quite like it. Parisians love this time of year and it shows. So why not come and join us for Christmas and New Year? Remember, by booking on the official site of the Résidence & Spa Le Prince Régent, you are assured of our best rates available online.
Spend time with Your Loved Ones in Paris this Christmas
As we come towards the end of November, Paris takes on a festive appearance. Shop windows are adorned with seasonal delights and decorated in eye-catching splendor. The streets are bedecked with twinkling lights guaranteed to soften the hardest hearted Scrooge. Notre Dame Cathedral, Saint-Sulpice, Le Madeleine and many more churches present heartwarming nativity scenes. Christmas markets spring up around the city offering Yuletide cheer. Open air ice skating rinks are filled with laughing, joyous people. The capital embraces Christmas like no other city.
This is truly the ideal time for a romantic getaway, or a chance to spend some quality time with the family. At the Résidence & Spa Le Prince Régent you will receive a festive welcome and we will be delighted to make suggestions as to how you can enjoy Christmas in our fair city to the fullest. Our central location means you will not be far from the events and activities, and no matter what the temperature is outside, you will feel the warmth of Paris at this enchanting time of year.
The convenience of a Hotel Concierge on a tablet computer
The Résidence & Spa Le Prince Régent has taken the comfort and convenience of our guests to a whole new level. With pardonable pride we present our e-concierge service. Each of our guest accommodations is supplied with a tablet computer that ensures you have all the information necessary to make the most of your stay easily accessible. Should you wish to book a taxi, a restaurant table, tickets for a show, a local service, an airport shuttle or receive assistance with your travel arrangements, then the solution is at your fingertips. It's all part of enhancing your hotel experience.
The Nautic; Paris International Boat Show 2014
What may well be the boating and water sports world's most anticipated event takes place at the Porte de Versailles from December 6th to 14th. The Nautic Show offers a huge number of boats on display, including 200 new models, plus a wide and varied programme of exhibitions and displays. A new marina gives you the chance to see the craft on the water, and you can benefit from the advice of professionals and see the wares offered by nearly 800 exhibitors. To add to the fun, there's a stand up paddle boat race along the Seine, open to 400 competitors.
******
• Christmas market at Champs Elysées: december 15 - january 5, 2015
Avenue des Champs-Elysées, Paris 8e
From Rond-point des Champs-Elysées to Place de la Concorde
Metro : Franklin D. Roosevelt station, lines 1 and 9 - Concorde station, lines 1, 8 and 12
• Christmas market at St-Germain des Prés : december 6 - january 2, 2015
Place Saint-Germain-des-Prés, Paris 6e
Metro : Saint-Germain-des-Prés station, line 4
• Department store Galeries Lafayette : 40 boulevard Haussmann, Paris 8e
Metro : Chaussée d'Antin Lafayette station, lines 7 and 9
• Department store Printemps : 64 boulevard Haussmann, Paris 9e
Metro Havre Caumartin station, lines 3 and 9
• Department store Le Bon Marché: 24 Rue de Sèvres, Paris 7e
Tel. 0033 (0)1 01 44 39 80 00
~oOo~
Picture copyright holder : Tourist office Paris - Photographer David Lefranc
---
Résidence & Spa Le Prince Régent - Charming Hotel, Latin quarter, Paris 6ème