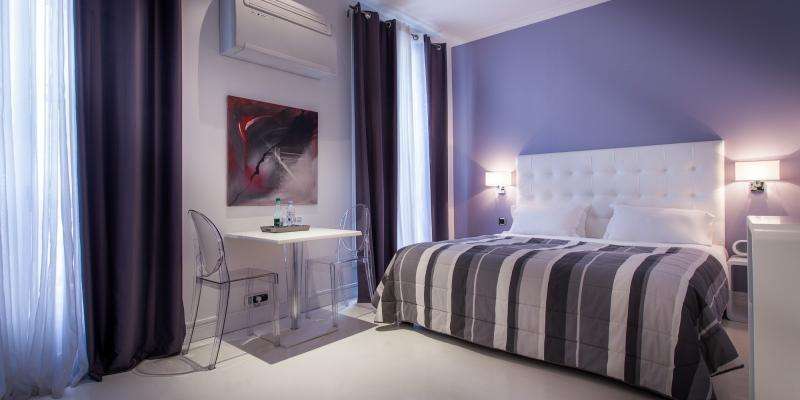 Paris Luxury Apartment Hotel in a superb location
Paris luxury apartment hotel the Résidence & Spa Le Prince Regent offers luxury studios and apartments for your accommodation, whether you are in the capital for business or pleasure. Check out the location of our popular and welcoming residential hotel in the 6th arrondissement. You'll love the proximity to the beautiful Jardin du Luxembourg for a morning jog or a walk in the late afternoon. Also in this district you can easily access the Odeon, the Pantheon and the Sorbonne, among many other places of note
Paris luxury apartment hotel with a choice of studio accommodation
Our Le Sensuel studio accommodation provides, as the name implies, a sensual experience and a luxurious treat for all the senses. Spacious at 22 square metres, there is plenty of room for two people to feel comfortable and unrestricted within these studios, which boast sleek contemporary designs and furnishings of a high standard, providing plenty of scope for relaxation, yet an intimate ambience. Each studio commands a view of the pleasing courtyard, a designer bathroom and fully equipped kitchenette to provide your Paris home from home, where you can feel at ease. Choose from ground, 1st, 2nd, 3rd or 4th floor studios.
Our hotel is so well located. Close by is the Jardin du Luxembourg, second largest public park in Paris. The extensive manicured lawns, tranquil pool, fountains and orchard offer a peaceful respite from the busy city for your stroll, morning jog or just a leisurely break. Adjacent is the Odeon Theatre de l'Europe, one of the six national theatres of France. From the park you can see the Pantheon, the French national mausoleum, constructed to an imposing and dignified classical design. Not far away is the Sorbonne, the great university which has earned such a global reputation.
The Résidence & Spa Le Prince Regent is a superb Paris luxury apartment hotel
At the Résidence & Spa Le Prince Regent you can be assured of a warm welcome and a deeply satisfying stay. We will be glad to assist you in your explorations of our delightful part of Paris.
Copyright: Residence & Spa Le Prince Régent