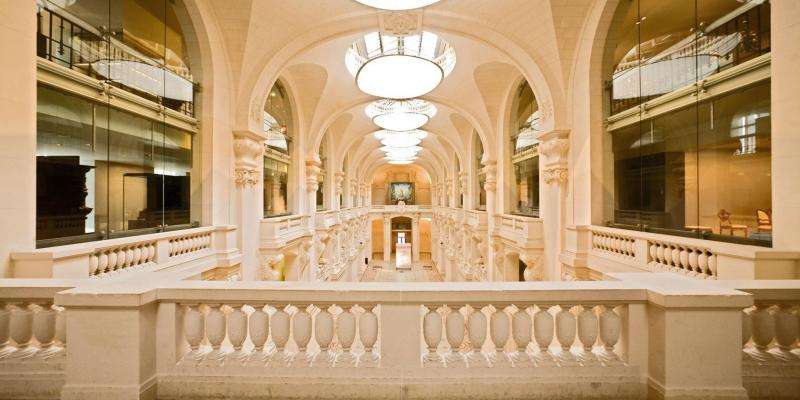 Fashion Creation Exhibition in Paris by a leading Designer
Fashion creation exhibition in Paris running from February 28th until August 31st at the Museum of Decorative Arts will showcase the work of Dries Van Noten. The Belgian designer's Spring and Summer collection for 2014, inspired by items from the museum's archives, will take centre stage. This museum housed in the western wing of the Louvre is easily accessible from the Résidence & Spa Le Prince Régent.
Fashion creation exhibition in Paris combining yesterday and today
The fashion designer Dries Van Noten grew up in a family involved in the clothing industry. His grandfather was a tailor, his father owned a menswear shop, and he demonstrated an interest in fashion from an early age. The young designer presented his first menswear collection in London in 1986, and caught the attention of industry insiders. Today his eponymous brand is sold in some 400 shops worldwide, and he has dressed celebrities such as Cate Blanchett and Maggie Gyllenhaal.
Van Noten is not a designer associated with minimalism. His often eccentric style brings to bear a heady eclecticism through the use of artful juxtaposition, straddling the archival and the cutting edge. He is known for his love of prints and original fabrics and the fact that he does not do haute couture; all his garments are ready to wear and freely available via retail.
For the current exhibition the designer was asked to present his creative world and was given full access to the museum's archives for inspiration. Some of the 19th century textile motifs he uncovered have been echoed in the designs for his latest collection, such as a kimono inspired coat fashioned from a tulip motif silk. This exhibition is an excellent chance to understand the creative process of one of the world's leading fashion designers.
The Résidence & Spa Le Prince Régent recommends this fashion creation exhibition in Paris
From your room of clean line design and contemporary furnishings at the Résidence & Spa Le Prince Régent you will be well placed to enjoy the Dries Van Noten exhibition.
Photo: Musée des arts décoratifs © Paris Tourist Office - Marc Bertrand