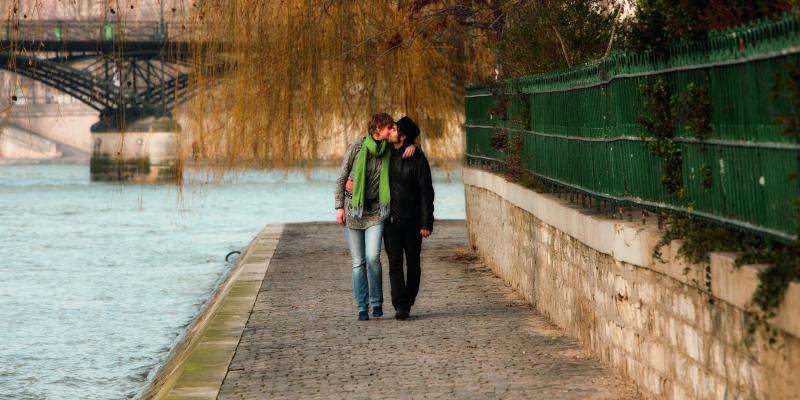 Enjoy a pampering for two on Valentine's Day
Why not come to Paris and enjoy a Valentine's Day you will always remember? The City of Romance beckons, inviting you on an intimate break just for two. The Résidence & Spa Le Prince Régent guarantees you a pampering stay, especially if you both partake of the soothing delights of our Spa 28. This offers a pleasure for the senses and a relaxing balm for the body in a setting that is the very essence of tranquility.
Be with the Valentine in your life on a break in Paris
Did Valentine's Day come about to commemorate a Roman priest who was martyred on February 14th, 270 AD? Or was the day named for one of the other St. Valentines history has known? How did Valentine become the patron saint of lovers? So many mysteries, but what is completely clear is that if you and your loved one step into Spa 28 it will be one of the most romantic liaisons you could possibly enjoy, even in a city as full of amorous possibilities as Paris. Beautiful surroundings, subtle lighting and the attentions of our highly skilled therapists will complement the joy of being together, leaving you utterly relaxed and able to more fully savour the many delights that Paris has to offer.
A boat ride and dinner along the Seine, the sparkling lights of the city from the viewpoint of the Eiffel Tower while sipping a glass of champagne, shopping for gifts for each other, a stroll hand in hand through some of the world's most picturesque neighbourhoods…all this and more can add up to the perfect Valentine's Day when you come to Paris.
New Year greetings from the Résidence & Spa Le Prince Régent
A very happy New Year from the Résidence & Spa Le Prince Régent, where we hope to enjoy the pleasure of your company as our guest in 2015. We think you will be thoroughly enchanted by the elegance of our establishment, delighted by the supremely high quality of our services and thrilled by the opportunities to explore Paris afforded by our excellent situation. Here on the Left Bank of the Seine you will find there is much to discover and enjoy. Then, if you wish to venture further afield, we have a choice of public transport located conveniently nearby.
Find the bargains of a lifetime at the Paris Winter Sales
It's time for the Paris Winter Sales. The retailers slash their prices on merchandise ranging from haute couture to electrical goods and just about everything in between and the savvy shopper can make unbelievable savings between January 7th and February 17th. The prospect of Winter Sales in the shopping capital of the world is an enticing one and we know you will have a wonderful time hunting down great bargains. Then, when you and your credit card are ready for some blessed peace and relaxation, the Résidence & Spa Le Prince Régent will be ready to welcome you.
Musée de la vie romantique
16 Rue Chaptal, 75009 Paris
+331 55 31 95 67
Metro : Pigalle Line 2 and 12
Jardin du Luxembourg
6e Arrondissement, 75006 Paris
+331 42 34 23 62
RER : Luxembourg, RER B

Picture credits : © Paris Tourist Office - Photographe : Jacques Lebar
---
Résidence & Spa Le Prince Régent - Charming Hotel, Latin quarter, Paris 6ème